Monday, February 25, 2019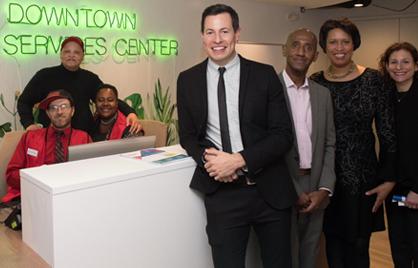 (Washington, DC) Today, Mayor Muriel Bowser and the DowntownDC Business Improvement District (BID) unveiled the new Downtown Day Services Center, a new resource in downtown DC for individuals experiencing homelessness. In 2018, Mayor Bowser invested $1.7 million to fund the center, which is housed within the New York Avenue Presbyterian Church (NYAPC) and will be managed by the BID, with social services provided by Pathways to Housing DC (Pathways).
"Through the Downtown Day Services Center, we can better meet the day-to-day needs of residents experiencing homelessness as we work to get them connected to permanent housing," said Mayor Bowser. "This center – which provides everything from access to laundry facilities and showers to case management support and health care – is one more way we are working with community partners to address the specific needs of our residents in order to make homelessness rare, brief, and nonrecurring."
The center will serve at least 100 clients per day and provide access to meals, computers, showers, and laundry facilities. Additional services will include connections to case management, behavioral health resources, employment support, and housing assessments.
"We're proud to be working with these experienced partners to bring robust, wrap-around homeless services back to downtown DC," said Department of Human Services Director Laura Zeilinger. "This program is a critical component in advancing the progress made to reduce and end homelessness in the District."
Combined, DowntownDC BID, Pathways, and the New York Avenue Presbyterian Church have decades of experience working to support individuals experiencing homelessness in Washington, DC. The BID has supported efforts surrounding the work to end homelessness for people living in the downtown DC area for more than 20 years. Pathways works with individual adults experiencing chronic homelessness and complex health challenges. And the New York Avenue Presbyterian Church (NYAPC) has welcomed individuals experiencing homelessness into their building for meals and restroom services for well over a decade.
"The DowntownDC Business Improvement District's mission to support all members of the downtown community became fully realized with the opening of the Downtown Day Services Center," said BID President and CEO Neil Albert. "We are proud to be partnering with the District of Columbia and our service providers to operate a state-of-the-art facility where coordinated services, on-site facilities and opportunities for engagement all play a role in helping individuals secure permanent housing."
The center, which will work to connect clients to permanent housing, will operate Monday through Friday from 9 am to 5 pm. Programming will promote wellness and harm reduction, and clients will be able to access transportation assistance, legal services, and assistance with securing vital documents.
"This Downtown Day Services Center is an incredibly important piece of the solution in our fight to end homelessness," said Christy Respress, Executive Director of Pathways to Housing DC. "It can be overwhelming to navigate a complicated social service delivery system while experiencing homelessness and fighting just to survive each day. The center brings all of the services people need together into one safe, welcoming, and dignified space so we can help each person find home, health, and hope. We are proud to be partners in this cutting-edge center!"
The Bowser Administration's plan to end homelessness embraces a housing first strategy with the underlying goal of permanent housing for all residents. In addition to making unprecedented investments in affordable housing, the Administration has launched a Homelessness Prevention Program, which has prevented nearly 6,000 episodes of homelessness for District families; increased investments in permanent housing programs by nearly 60 percent; expanded year-round access to provide immediate shelter for families in need regardless of the weather; and connected 3,900 single adults to permanent housing, including 1,700 veterans.