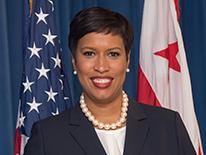 Muriel Bowser is the seventh elected mayor of Washington, DC. She has a strong record of creating a bold urban policy agenda, making tough decisions in a high stakes environment, and shaping a diverse economy.
Mayor Bowser has served her hometown in elected office since 2004 as Advisory Neighborhood Commissioner (2004-2006), Member of the DC Council (2007-2015) and now Mayor since 2015. On November 8, she became only the second person elected three times as mayor of Washington, DC. She is the first African American woman to be elected to three, four-year terms as mayor of an American city.
Since taking office, Mayor Bowser has boldly reset DC's global and national competitiveness, sped up affordable housing production, diversified the DC economy, oversaw consistent enrollment growth across the District's public schools to its highest enrollment since Home Rule, increased satisfaction in city services, refocused our efforts around achieving statehood, and invested in programs and policies that allow more families to live and thrive across the city.
Mayor Bowser is a strong leader and crisis manager with 25 years of management and financial experience balancing budgets, achieving AAA bond ratings, and clean audits. Faced with the health and economic challenge of the century, Mayor Bowser guided Washington, DC through COVID-19, racial and justice protests, pandemic-spawned crime and unemployment increases, and the events of January 6th. She commissioned the first Black Lives Matter public street mural, which established a safe area for police and demonstrators using public art, inspiring dozens of others around the world. She reorganized the government to respond to the multiple threats and led over 200 hours of public press updates and national press briefings. She issued over $2 billion in unemployment, rent and business relief and secured federal reimbursement, and drafted recovery and growth strategies that will return DC to pre-pandemic revenue levels in less than one fiscal year.
Mayor Bowser made and kept bold promises on the creation of affordable housing a hallmark of her service to DC. And she has been at the forefront of national thought leadership on affordable housing and homelessness. She led the U.S. in per capita affordable housing investment; committed an all-time high $1 billion of city resources to tackle affordable housing; and led the National League of Cities task force to craft a federal call to action on the affordable housing crisis.
Mayor Bowser is committed to an equity agenda; she has focused on investing in DC small businesses and since the beginning of her Administration has increased the District's spending in the CBE community from just over $300 million to over $1.1 billion, publishing a Green Book listing for DC government and regional partner procurement opportunities. Mayor Bowser also created the first ever Office of Racial Equity, Office of Gun Violence Prevention, expanded the Mayor Marion S. Barry Summer Youth Employment Program to young people up to age 24, and funded the first ever Black Homeownership Fund. In two short years, she will deliver on her promise to deliver a full-service hospital in Ward 8.
Mayor Bowser has played key roles in delivering transformational economic development projects, creating jobs and housing for DC residents—including the Audi Field, the Entertainment and Sports Arena, St. Elizabeths, Walter Reed, McMillan, and The Wharf.
Mayor Bowser has served as a Board Member of the Metropolitan Area Transit Authority, chaired the Metropolitan Washington Council of Governments Transportation Planning Board and serves on the Advisory Boards of the U.S. Conference of Mayors and the African American Mayors Association. She is a graduate of the Bloomberg Harvard City Leadership Initiative and of Leadership Greater Washington. She holds a Bachelor of Arts from Chatham University and a Master of Public Policy from the American University.
Mayor Bowser tells everyone that there's only one job better than being mayor of her hometown, and that's being Miranda's mom. Mayor Bowser was blessed to become a mom by adoption and proud to show everyone that there are many ways to be a family. She and Miranda call Ward 4 home.
[Mayor Bowser's High Resolution Image]