Wednesday, February 19, 2020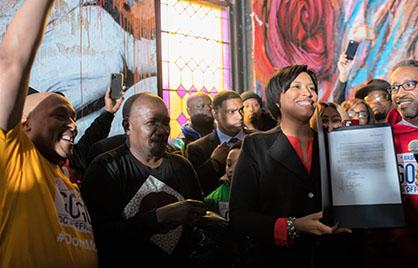 (Washington, DC) – Today, Mayor Muriel Bowser signed the Go-Go Music of the District of Columbia Designation Act of 2019 to make Go-Go the official music of Washington, DC. The legislation, introduced by Ward 5 Councilmember Kenyan McDuffie and unanimously passed by the Council, calls for the implementation of a program to support and archive Go-Go music and its history in the District.
"Today, we are proud to say that DC's official music will always be Go-Go, because there is no DC without Go-Go and there is no Go-Go without DC!" said Mayor Bowser. "Go-Go music is a creative force that has inspired generations of Washingtonians socially, culturally, and artistically, and this legislation will empower us to preserve and celebrate our native sound."
Go-Go originated in the District during the mid-1960s to late 1970s and is a fusion of many different musical forms, including funk, blues, soul, and salsa. The unique genre got its name from one of its founders, the late "Godfather of Go-Go" Chuck Brown.
"Go-Go is DC's indigenous musical genre, and I am pleased to have championed the efforts at the Council to designate it as the official music of DC," said Councilmember McDuffie. "I look forward to working with Mayor Bowser and her administration for a thorough and impactful implementation, which will bring the Go-Go community closer to the District's already strong economy and, in doing so, make our city more equitable and prosperous for all."
Mayor Bowser celebrated the milestone with a community celebration hosted by the Mayor's Office of Nightlife and Culture, featuring performances by local Go-Go artists.
"Go-Go is an integral part of the city's culture," said Shawn Townsend, Director of the Mayor's Office of Nightlife and Culture. "I am excited to play a role in the preservation of Go-Go music and live-music venues."