Wednesday, August 9, 2023
Schools to Distribute SmarTrip Cards; Students May Continue Using 2022-23 Cards Through September 30
(Washington, DC) – Today, with the new school year approaching, Mayor Muriel Bowser is encouraging all families to ensure they have a plan for getting to and from school every day, on time. Families whose children or teens use public transportation are also reminded that last year's Kids Ride Free cards will work until September 30.
"We know how important it is for students to be at school every day, on time – and that starts with having a plan for getting to and from school," said Mayor Bowser. "If your child will be taking the bus or Metro to school, now is the time to make sure you have their Kids Ride Free SmarTrip card ready. We have a fantastic public transportation system in DC, and Kids Ride Free makes it affordable and accessible for all our students."
Ahead of the first day of school, 2023-24 Kids Ride Free SmarTrip cards will be sent to all DC Public School (DCPS) and DC public charter schools for distribution to students. Students new to the District will be eligible to receive their SmarTrip cards first, while those with 2022-23 cards will be able to use those cards through September 30. Students/families should contact the main office at their school to connect with their school's Kids Ride Free ID Administrator. Once students receive their cards, they are reminded to use them at all times within the Metro system in order to comply with Metro policies and to help in tracking the program's impact.
To be eligible for participation in the Kids Ride Free program, a student must be:
A resident of Washington, DC; and
Ages 5 through 21*; and
Enrolled in an elementary or secondary public, public charter, private, or parochial school located within the District, or youth in the care of the District.
*Children under the age of five may travel for free with a paying passenger.
Students who have lost or misplaced their 2022-23 Kids Ride Free SmarTrip cards may request a replacement by going to the District Department of Transportation (DDOT) headquarters (250 M Street SE) on Wednesday, August 16 from 10:00 a.m. – 12:00 p.m. and 2:00 p.m. – 4:00 p.m. Students will need to verify their student ID number to receive their replacement card.
As a councilmember, Mayor Bowser established and championed the Kids Ride Free program to ensure students and families have consistent access to vital public transit services. As Mayor, she expanded the program to include Metrorail and offer greater options to more students.
For additional information and Frequently Asked Questions about the Kids Ride Free program, visit kidsridefree.dc.gov. Families may also contact their School ID Administrator or DDOT's School Transit Subsidy Program Office at (202) 673-1740.
 
School Year 2023-24 Kids Ride Free Card Design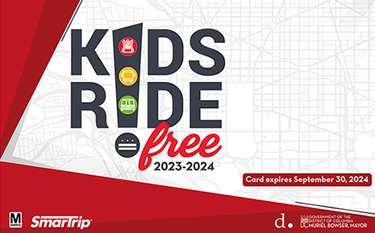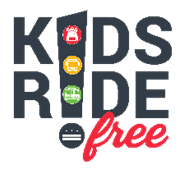 In addition to the Kids Ride Free program, eligible students can also take advantage of the DC School Connect program, managed by the Department of For-Hire Vehicles (DFHV). This transportation service serves students who attend certain DCPS and DC public charter schools in designated Safe Passage Zones across Wards 7 and 8.
DC School Connect allows schools to select shared locations as designated pickup and drop-off locations. Currently, DC School Connect is at full capacity, serving more than 300 students at nearly 30 schools. To learn if your school participates and how to sign up for the waiting list, contact (855) 435-3835, email [email protected], or go to dcschoolconnect.com 

Social Media:
Mayor Bowser Twitter: @MayorBowser
Mayor Bowser Instagram: @Mayor_Bowser
Mayor Bowser Facebook: facebook.com/MayorMurielBowser
Mayor Bowser YouTube: https://www.bit.ly/eomvideos