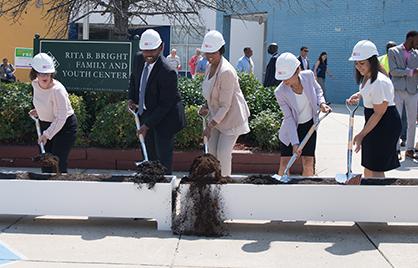 (Washington, DC) – Today, Mayor Bowser broke ground on the Ward 1 Short-Term Family Housing, the final building in the Mayor's plan to replace the DC General Family Shelter with dignified, service-enriched programs across DC. Programs in Wards 4, 7, and 8 opened in Fall 2018, programs in Wards 5 and 6 will open in Fall 2019, and Ward 3's program is scheduled to open in 2020.
"When our neighbors experience a housing crisis, we're going to be there for them with programs in all eight wards that are safe, service-enriched, and support a quick return to permanent housing," said Mayor Bowser. "Closing DC General was only the first step. We're also investing in resources and supports to ensure fewer families in our city ever experience homelessness in the first place. When they do, though, we will have the shelter and programming in place to help them get back on their feet quickly."
Establishing an effective crisis response system, including the development of smaller, community-based short-term family housing programs, is one part of Mayor Bowser's strategic plan to end homelessness in the District. Short-term family housing buildings provide a safe, clean, and private place for up to 50 families while they work to obtain permanent housing. Each building is equipped with places for children of all ages to play and do homework and will include services to help families quickly stabilize and exit shelter. The Ward 1 site will include 35 apartment-style emergency shelter units for families and 15 permanent supportive housing apartments for senior women.
"Being able to deliver these services in a space that shows our families that we care about them is part of building trust and enabling better outcomes for families," said Department of Human Services Director Laura Zeilinger. "One example of this is that we are seeing a families exit shelter and regain permanent housing more quickly. We are extremely grateful to Mayor Bowser, the DGS team and all of the other amazing partners who have helped us design this beautiful building."
Since the implementation of Homeward DC, the District has seen a nearly 22% decrease in homelessness, driven by a 45% reduction in homelessness among family households, and chronic homelessness is the lowest it has been in 15 years. The Mayor's Fiscal Year 2020 budget invested $37 million in new funds to continue the implementation of Homeward DC to make homelessness rare, brief, and non-recurring, including over $20 million to support the new short-term family housing programs and help residents transition into permanent housing.
"Emergency shelter is a critical component of any homeless service system," said DC Interagency Council on Homelessness Director Kristy Greenwalt. "Ensuring that we have facilities that are of a more appropriate scale and quality is an essential part of the Homeward DC plan."
The Mayor was joined at the groundbreaking by Ward 1 Councilmember Brianne Nadeau, administration officials, members of the Ward 1 Short-Term Family Housing Advisory Team, and community members.