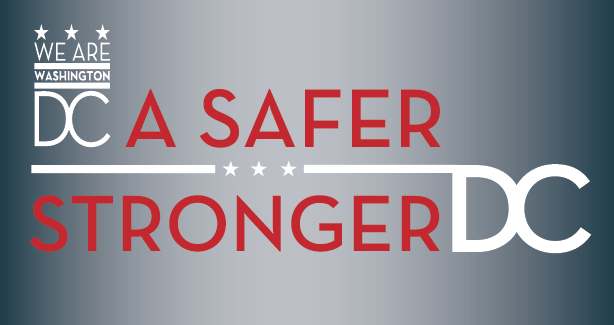 In August 2015, Mayor Muriel Bowser outlined a comprehensive public safety agenda— the Safer, Stronger DC plan. The proposal includes increasing police presence on streets and in communities as long as necessary, getting tough on the relatively small number of repeat violent offenders who continue to bring harm to the DC community and providing the Metropolitan Police Department (MPD) with the tools and resources it needs to protect neighborhoods. Because this is not just a policing issue, Mayor Bowser has proposed a number of measures that will bring stability, opportunity and more services to the neighborhoods that have been hardest hit by crime.
Below are the initiatives and programs the Mayor has presented. To view more details about the program/initiative, visit the links below:
Strengthen Law Enforcement Tools
✔ Summer Crime Initiative
☐ Crime Lab Reforms
✔ Collaboration with Federal Partners to Investigate Crimes
✔ Robbery Task Force Initiative
☐ USAO/ Mayor/ OAG Attorney Capacity Agreement
✔ Special Police Officer Regulations
☐ Call-Ins with Federal Partners
✔ Security Camera Rebate Program
✔ Swift and Certain Sanction
☐ Enhanced Penalties for Violent Crimes committed on public transportation and at recreation centers
☐ USAO/ MPD Warrant Squad
☐ Searches of people on probation or parole
Treat Trauma in Our Communities
✔ Expansion of Community Stabilization Response City-Wide
✔ Proactive Family Stabilization Strategy
☐ Hospital based Continuum of Care Program
☐ MPD/ DBH Crisis Intervention Teams
✔ Safer Stronger Task Force
Create Opportunities and Alternatives
✔ Establishment of the Office of the Deputy Mayor for Greater Economic Opportunity
☐ Innovative Court Diversion Programs
✔ Outreach Workers Summit
✔ District Takeover of the Correctional Treatment Facility[PDF]
✔ Malcolm X Opportunity Center
✔ Safer Stronger Task Force
Increase Police Force Levels
✔ Retention Incentives [PDF]
✔ Senior Police Officer Legislation [PDF]
✔ Increased Traffic Control Officer (TCO) Levels
✔ Increased MPD Applicant Pool
☐ MPD Civilianization Initiative
Documents
[PDF] This document is presented in Portable Document Format (PDF). A PDF reader is required for viewing. Download a PDF Reader or learn more about PDFs.