Safe Communities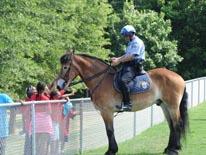 Building Safe Communities
One of the District government's most important responsibilities is to ensure the safety and well-being of its citizens and visitors. The Gray administration is committed to building safe communities and in doing so, is committed to providing our communities and our safety officials with the resources necessary to achieve this goal. The administration is also committed to creating innovative programs that improve public safety in chronic problem areas.
The District is on pace to have its lowest number of annual homicides in half a century: As of December 30, there have been 108 murders in the District – approximately 18 percent fewer than at this time last year. This figure is bolstered by the Metropolitan Police Department's homicide-case-closure rate of 94 percent, which is significantly higher than the national average.
After several years of decline, the number of sworn officers in the Metropolitan Police Department is now increasing: Mayor Gray identified funds in his Fiscal Year 2012 budget to recruit and hire 300 new officers for the first time in years – including reopening the Metropolitan Police Academy. Despite significant budget cuts across the government, Mayor Gray proposed and passed a FY 2012 budget that maintains current levels of spending for public-safety agencies.
Fire and Emergency Medical Services have been strengthened: Mayor Gray reopened the Fire and Emergency Medical Services (FEMS) Academy to new recruits for the first time in several years, and the response time for EMS calls is improving thanks to investments in advanced software applications, which promote greater service delivery for 911 and 311 services.
Mayor Gray signed an executive order increasing the trust between the District's public-safety officials and the immigrant community: The Mayor's order ensures that the District's law-enforcement personnel will not be used as agents of federal immigration law enforcement, increasing their ability to prevent crime in immigrant communities.