Quality Education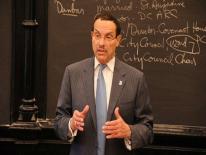 Providing a Quality Education for All
One of the primary goals of the Gray administration is to ensure that all District residents – from birth to age 24 – have access to a first-rate system of public education. Mayor Gray's commitment is to expand quality education options throughout the District. He wants to see the availability of universal pre-K to all in need, the creation of outstanding traditional public and public charter schools, and access to local higher education opportunities at both the University of the District of Columbia and the Community College of the District of Columbia.
Education reform is moving forward under Chancellor Kaya Henderson: Mayor Gray has supported DC Public Schools (DCPS) Chancellor Kaya Henderson in her efforts to continue the successes of school reform in the District, including ensuring teacher accountability and classroom performance through the IMPACT system while observing proper due process for employment decisions and avoiding costly litigation.
Enrollment in our public-education system is growing: DCPS has seen a reversal in its long decline in enrollment, with the first increase in decades coming this year – including dramatic growth in Pre-K and elementary-school enrollment made possible by Mayor Gray's leadership when he chaired the DC Council. And the DC Public Charter Schools continue to grow.
School modernization efforts are continuing and expanding to new campuses: Mayor Gray has cut the ribbon on five new or modernized state-of-the-art school campuses – including the grand opening of a new Science, Technology, Electronics and Math (STEM) campus at H.D. Woodson High School; the modernized and expanded Woodrow Wilson High School and Anacostia High School; a brand-new Janney Elementary School and a new Takoma Education Campus. Mayor Gray has also held groundbreakings for the modernization of Cardozo and Dunbar High Schools, and has made a commitment to build a brand-new Ballou Senior High School. In addition, the administration has secured $100,000 in private funds for the development of an enhanced facility plan for schools.
More special-education students are being mainstreamed from private placements into D.C. Public Schools: Mayor Gray has made substantial progress towards meeting his goal of reducing by half the number of children with disabilities in non-public school placements while ensuring they receive the appropriate educational services they deserve. These students now have the chance to study with their peers and neighbors and experience shorter commutes to school. These changes also save District taxpayers millions of dollars in tuition and transportation costs. At the time Mayor Gray took office, there were 2,204 students enrolled in non-public placements. As of December 13, there were 1,783 students enrolled in such placements -- a decline of 421 students. In only the first year of Mayor Gray's efforts, he has reached nearly 40 percent of his goal to reduce the number of District students in such placements to 1,102 by 2014.
Mayor Gray is implementing ways to increase transparency and accountability in the District's public charter schools: In December, Mayor Gray and the DC Public Charter School Board (PCSB) debuted school performance reports, the result of a two-year process of engagement and feedback from the education community and government stakeholders. The reports reveal school scores from the PCSB's Performance Management Framework. Schools are ranked by performance into 3 tiers, enabling transparent information sharing about school quality and communication to the public about the performance of the city's public charter schools.